Places To Visit in Agadir, Morocco
In this article, you will see a list of the best places to visit in Agadir, the biggest city in the south part of Morocco. Then, you can leave a comment or any question about Agadir city in the comments section below.
Agadir's Downtown
Agadir is a dynamic and modern city. The various avenues that cross the city have a pedestrian area to stroll in and browse the restaurants, shops, and some artisanal places. The Avenue des FAR is the most animated avenue in the city. Nearby, there are the boulevards Hassan II, August 20, and Mohammed V, wide avenues cut by the Valley of Birds. Overall, the architecture is modern and without much interest, the surroundings of the large beach offer much more for pleasant and relaxing …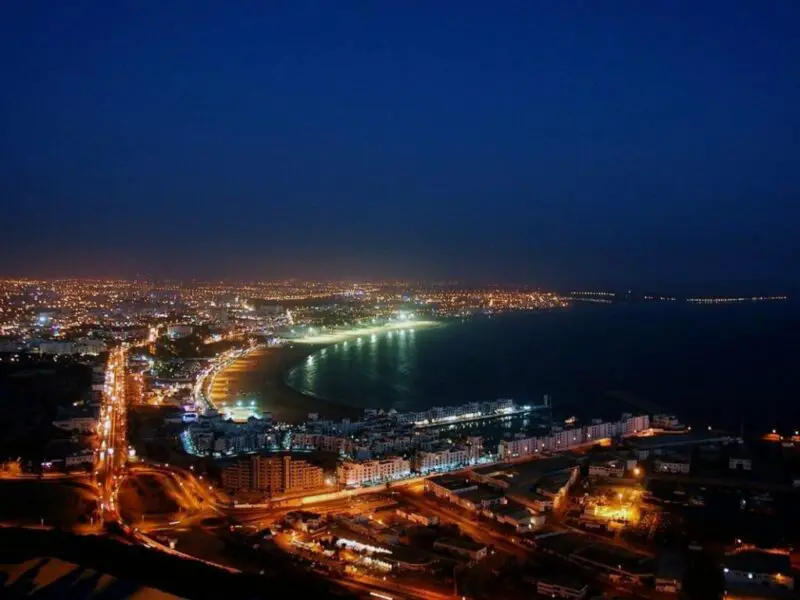 If you go there to undertake a cultural journey to meet a historical heritage, we advise you other cities. On the program, shops, cafés, and restaurants are the pride of the inhabitants. But there are still neighborhoods we recommend as the Avenue des FAR, Place Salam, or the Loubnane mosque. In any case, you will probably not spend more than one day in the city center before going to the beautiful beaches of Agadir.
Agadir Corniche Beach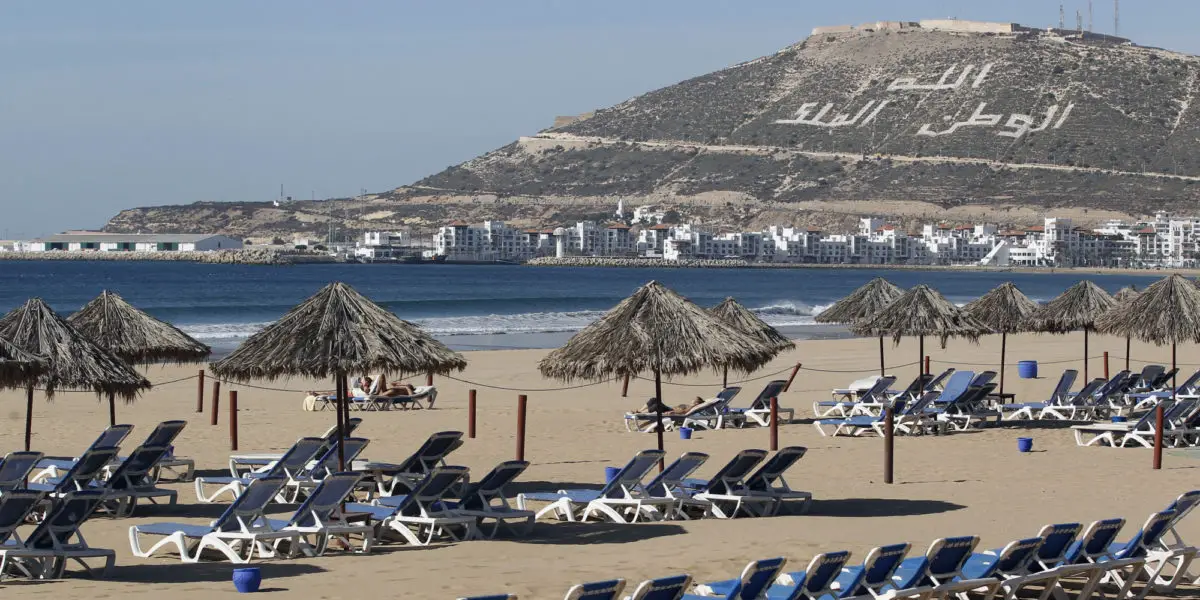 Agadir Corniche offers a real place of the walk for tourists and is ideal to enjoy the sun, relax, and share warm moments in love or with family. It runs along Agadir beach and there are many restaurants and hotels. A vast improvement from a decade ago and is a lovely place to walk along with plenty of restaurants, coffees, and festive events organized especially during summer.
Corniche Beach is large with silky soft sands, calm water, and easy to swim in. During summer, the beach is full of locals, tourists from all over the world, and some hotels have their own areas of sand reserved for beds. It can be quite hot to walk on the sand when the sun comes fully out but as soon as you step into the water, it's so cooling.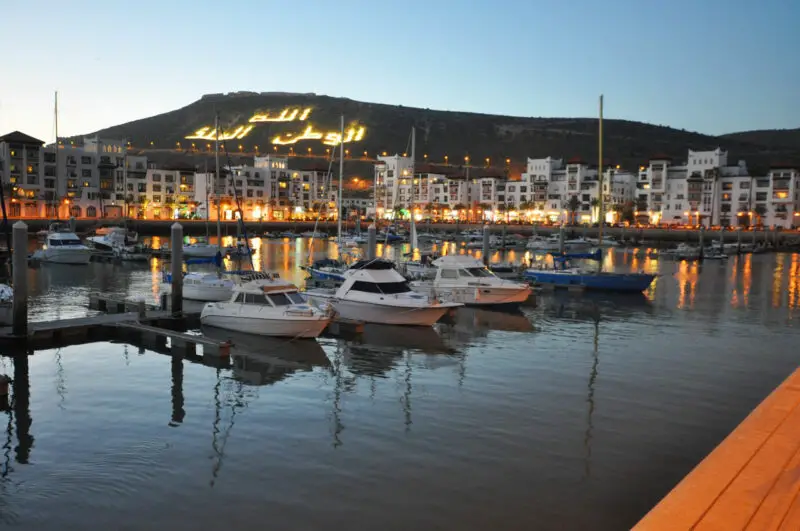 From the beach, you have a full view of the Kasbah and at night, the kasbah looks beautiful when it is lit up. Finally, do not miss visiting the other beautiful beaches not far from Agadir.
Agadir Marina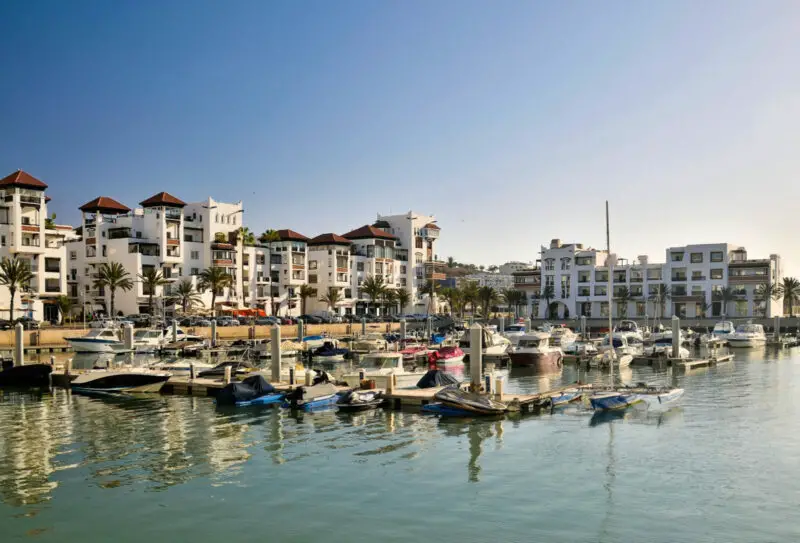 The Marina is a must-see place in Agadir corniche to enjoy the outings with family or friends and sports activities along the Atlantic coast.
Fish Market and Restaurants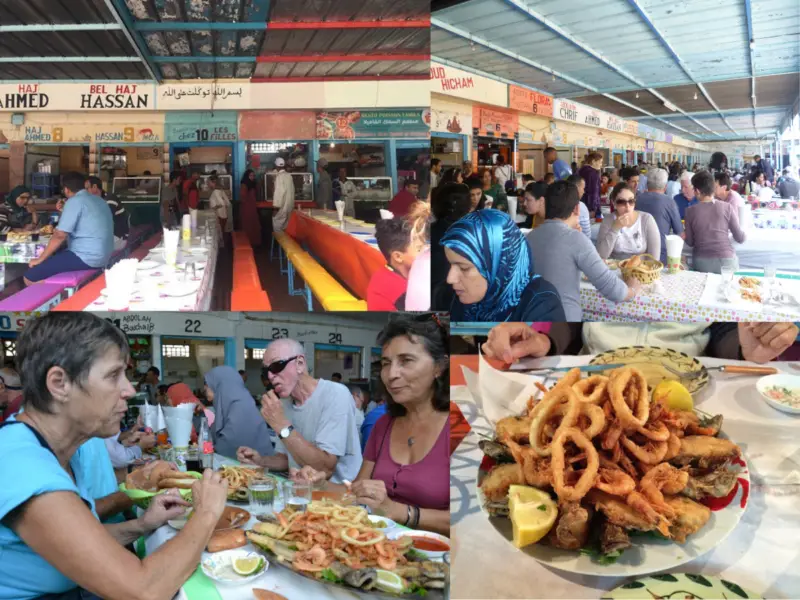 Too close to Marina, the fish market is among the authentic places to visit in Agadir. You can buy fish or enjoy eating different kinds of fish in this place full of seafood restaurants. If you are planning to eat there, just try to negotiate the price before you order and you may be approached in a friendly manner to take you to their own restaurant.
The Old Kasbah of Agadir Oufela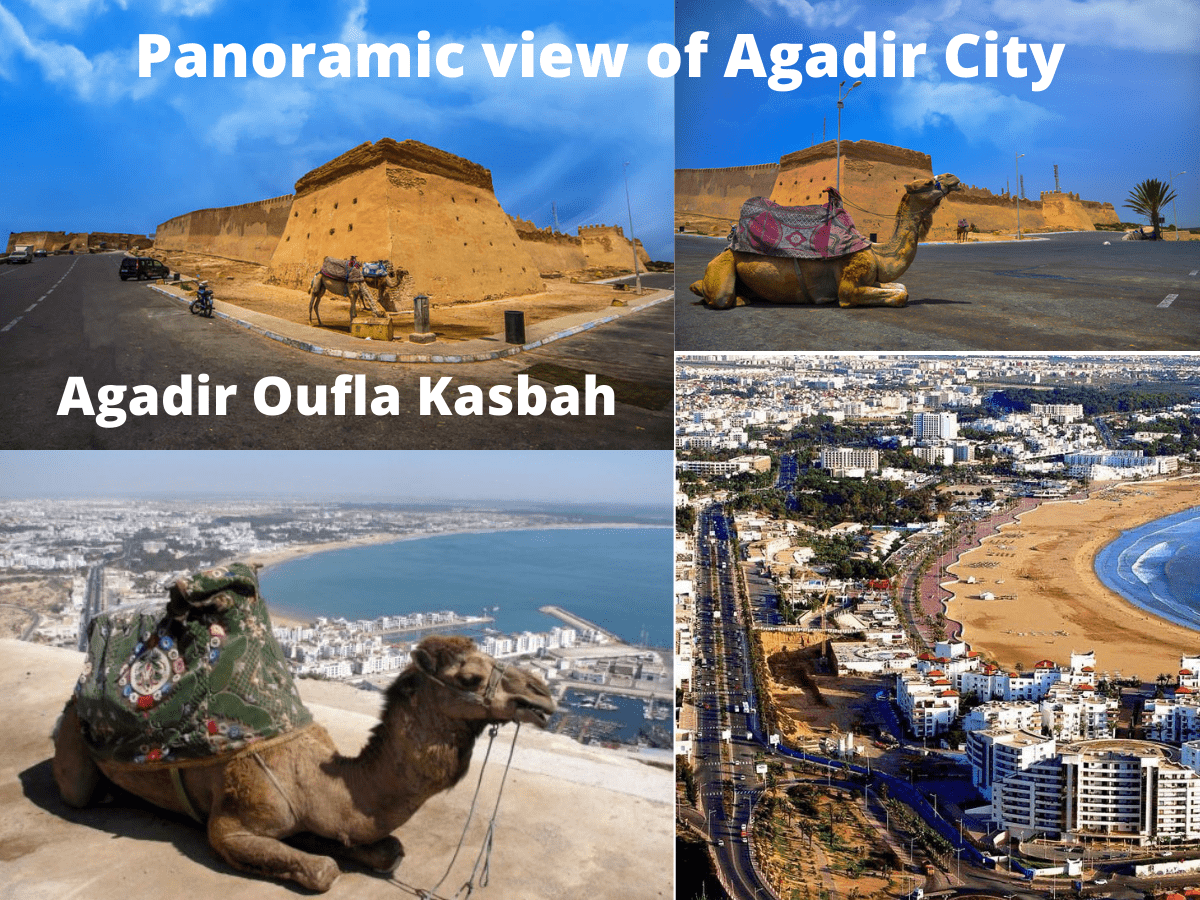 The old Kasbah of Agadir oufela is a fortress overlooking the city and the beach with a height of 236 meters giving a great view over the city. In 1540, Mohammed Ech-Cheikh, a Moroccan king belonging to the Saadi dynasty, erected this city. After conquering the city, it builds these walls for protection against possible invasions including the Portuguese. In 1752, to increase the security of Agadir, the Kasbah was rebuilt. In 1960, Because of the earthquake, the fortifications were rebuilt on their old marks. During their walk, visitors will not forget that this fortress has contained the oldest district of Agadir, and this place, is ideal to admire the city from all angles as well as the sunsets.
Cable Car Tour
The cable car is a new tourist attraction in Agadir city launched in July 2022. So, taking a cable car is a must while you are in this city to have a panoramic view of the city, Agadir Corniche beach, Marina and Agadir harbor. 
Each cabin has 8 seats and the price per person is 80 dhs for adults, 60 dhs for kids of 4 to 10 years old, and free for kids under 3 years old.
NB: mentioned prices are updated from danialand website on September 03.2022.
Valley of Birds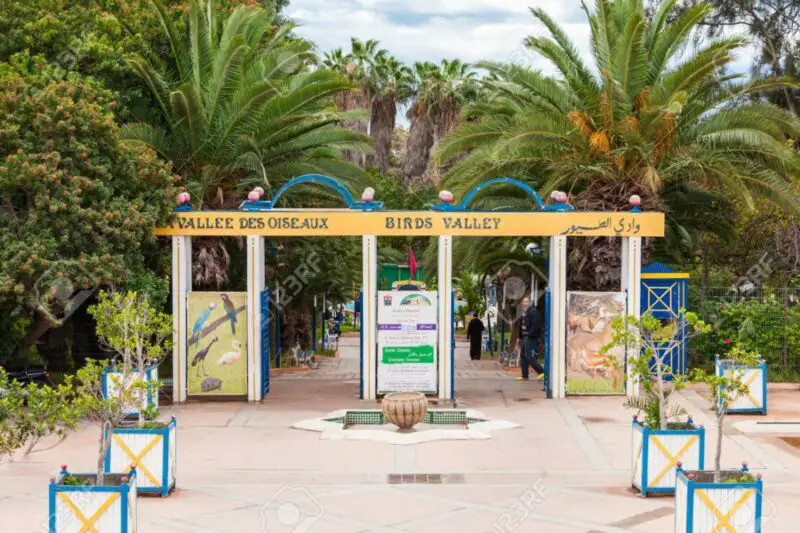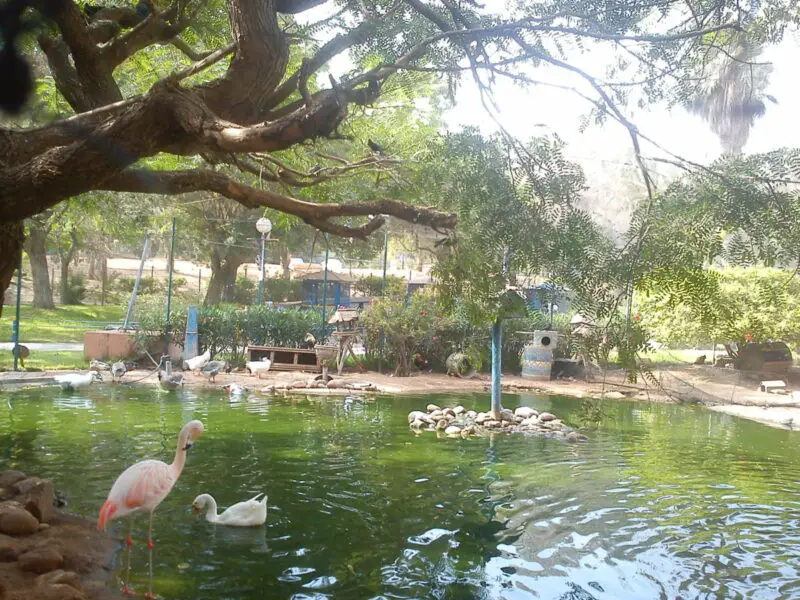 You can discover different species of birds, some local animals, and others imported from overseas. I would recommend this beautiful place to spend an hour or two and the entrance is free of charge for everyone.
Paradise Valley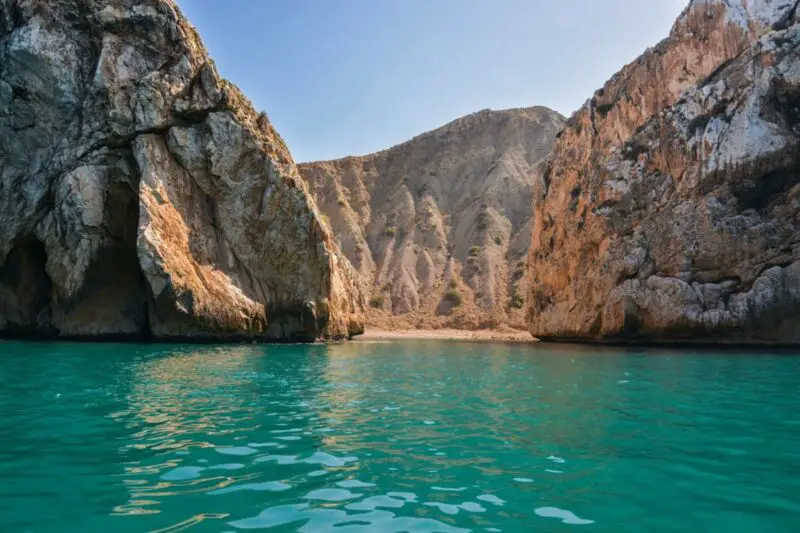 Paradise Valley is located on the road to imouzzer from Agadir, 25 km from Aourir. From a small car park begins the adventure towards paradise. After walking for 1 hour in the middle of the forest, mountains, and rivers, you arrive at a beautiful place with 3 large waterfalls with their natural pools with turquoise water.
Imouzzer of Ida Outanane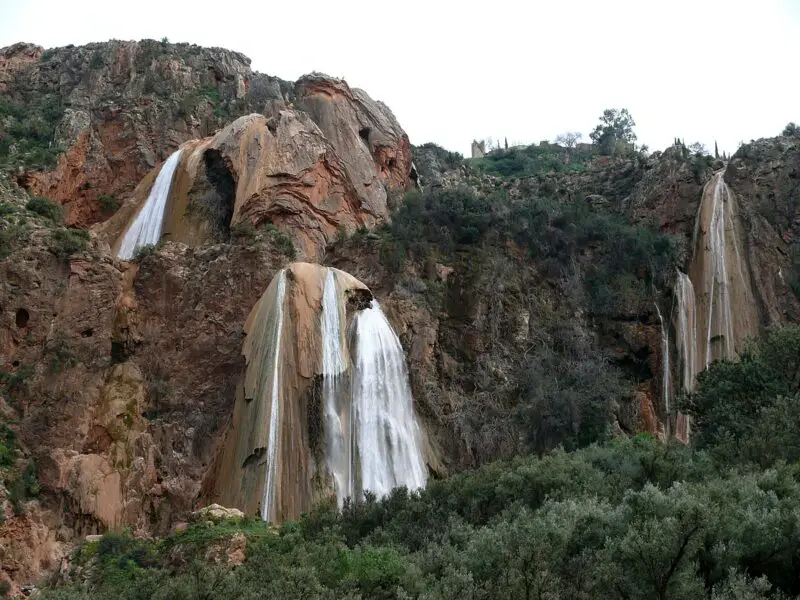 Imouzzer is a small village located about sixty kilometers from Agadir. This village's inhabitants are mainly Berbers (Moroccan ethnicity). Imouzzer village is full of a palm grove, where tourists can stroll, meeting the Moroccan workers. For regional products lovers, there is a weekly souk every Thursday which turns the village into a dynamic place. Three kilometers away, the valley of Oued Agadir City MoroccoTinkert offers magnificent waterfalls.
A visitor can complete the visit by the caves of Wintimdouine, a true speleological place. In August, there is a honey festival that brings together producers and followers of this commodity produced in the region.
How can I go to Imouzzer?
To start this excursion, you take the road P8 to Essaouira on a little more than 10 km. Then, follow the CT 7002 road, a sinuous road that calls for caution. However, visitors can stop along the roads to admire the landscape (palm and oasis) and may even meet iguana sellers. After getting to Paradise Valley, you can continue your road to reach Imouzzer after almost a 45minutes drive.
CrocoParc ( Crocodile Park )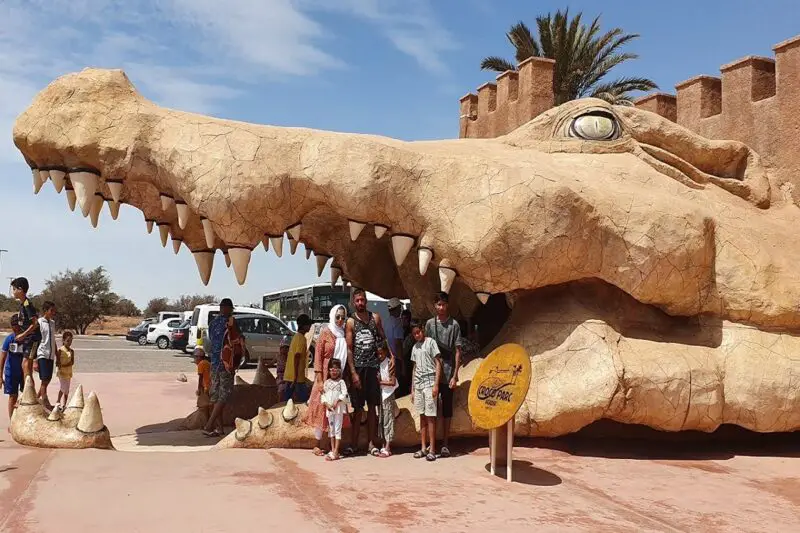 You can visit CrocoParc in Agadir to discover a beautiful jungle full of crocodiles, a botanic garden containing more than 300 exotic plants from all over the world, areas for children to play, outdoor workshops, and the restaurant with a terrace allowing them to observe and discover more about crocodiles while having a meal. The park is located in RN 8 – PK 16 – BP 246 80046 DRARGA – AGADIR.
How can I get to Agadir City?
Agadir is served by buses, taxis and unfortunately isn't served by trains.
In case you take a bus from :
Essaouira: Count between 3h and 3h30;
Marrakech: Count between 3h and 4h;

Safi: Count between 4h and 5h;

Casablanca: Count between 5h and 6h.
If you are coming from the north of Morocco by train, you will finish your way from Marrakech by Soupratour bus. Marrakech is the last train station.
Places to visit in Agadir on a Map :