The historical site of Agadir Oufela Kasbah is a must-visit place and you can get there by the new spectacular attraction of a cable car to enjoy a panoramic view of Agadir before you get to the top of Agadir Oufela mountain. 
The Port of Agadir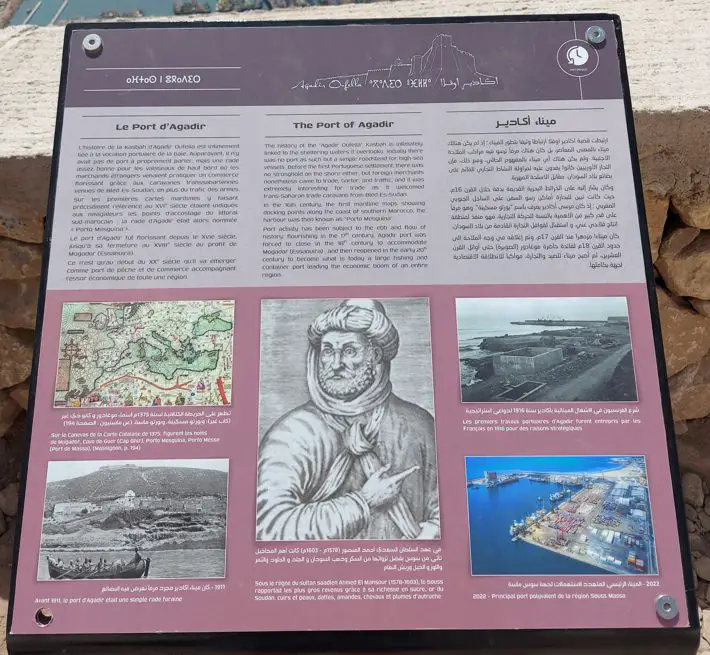 The history of the Agadir Oufela Kasbah is intimately linked to the sheltering waters it overlooks. Initially, there was no port as such but a simple roadstead for high-sea vessels. Before the first Portuguese settlement, there was no stronghold on the shore either. Still, foreign merchants nonetheless came to trade, barter, and traffic, and it was extremely interesting for trade as it welcomed trans-Saharan trade caravans from Bled Es-Sudan.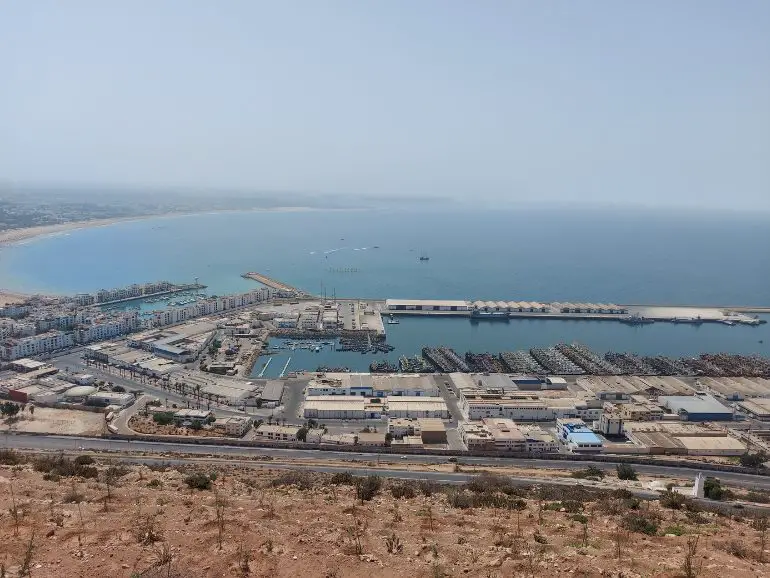 In the 16th century, the first maritime maps showed docking points along the coast of southern Morocco, the harbor was then known as "Porto Mesguina".
Port activity has been subject to the ebb and flow of history: flourishing in its century. Agadir port was forced to close in the 18m century to accommodate Mogador (Essaouira) and then reopened in the early 20m century to become what is today a large fishing and container port leading to the economic boom of an entire region.
Sidi Bouqnadil Mausoleum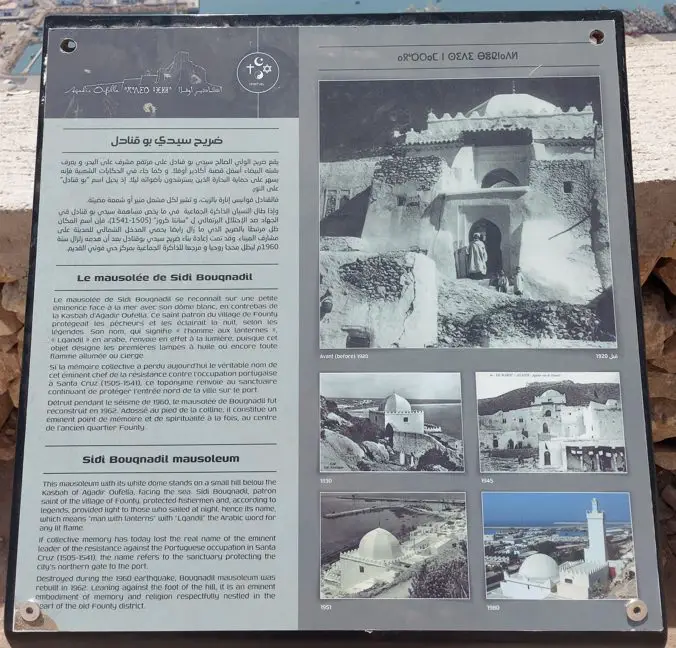 This mausoleum with its white dome stands on a small hill below the Kasbah of Agadir Oufela, facing the sea. Sidi Bouqnadil, patron saint of the village of Founty, protected fishermen and according to legends, provided light to those who sailed at night, hence its name, which means "man with lanterns" with "Lqandil" the Arabic word for any lit flame.
If collective memory has today lost the real name of the eminent leader of the resistance against the Portuguese occupation In Santa Cruz (1505-1541), the name refers to the sanctuary protecting the city's northern gate to the port.
Destroyed during the 1960 earthquake, the Bouqnadil mausoleum was rebuilt in 1962. Leaning against the foot of the hill, it's an eminent embodiment of memory and religion respectfully nestled in the heart of the old Founty district.
How to get to Agadir Oufela Kasbah?
To get to the top of the mountain, you can take the new cable car from Agadir city station, a public bus which costs only 8dhs or the small red taxi.