In this article, we will see a list of the best beaches in Agadir both in the north and the south part of this beautiful city called the southern pearl of Morocco. 
Best Beaches in Agadir – 

North Coast of

Souss-Massa-Draa
First of all, Agadir is known for its warm and sunny climate. Thanks to the coastal location, there are many beaches on the north coast of the city like Aourir, Imourane, Taghazout,…etc. Unsurprisingly, locals are known for spending a lot of time swimming, sunbathing, and socializing on the beaches where you have so many tourist attractions, hotels, and restaurants.
Agadir Corniche Beach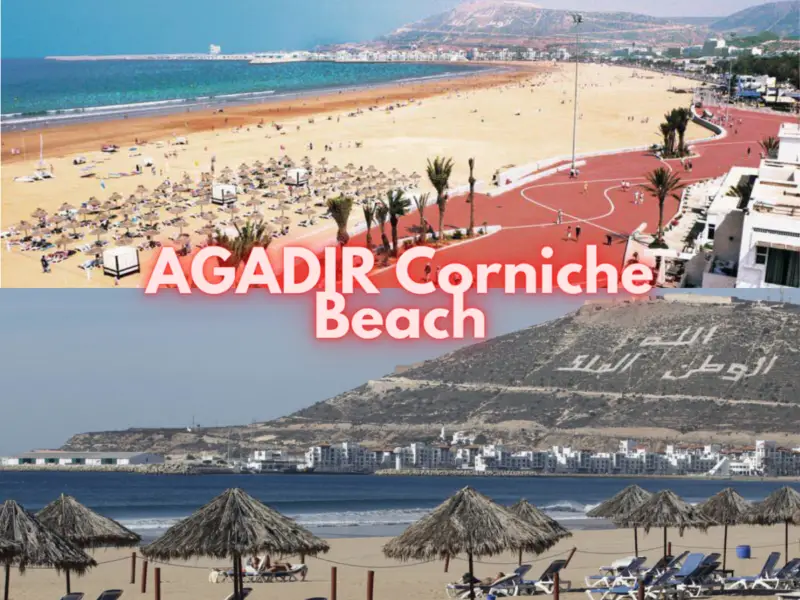 Agadir Corniche beach is an ideal place to swim, enjoy the sun, and share warm moments with family. Along the beach, there are many restaurants, coffees, hotels, and many events are organized for tourists during summer.
Aourir (Banana Village) :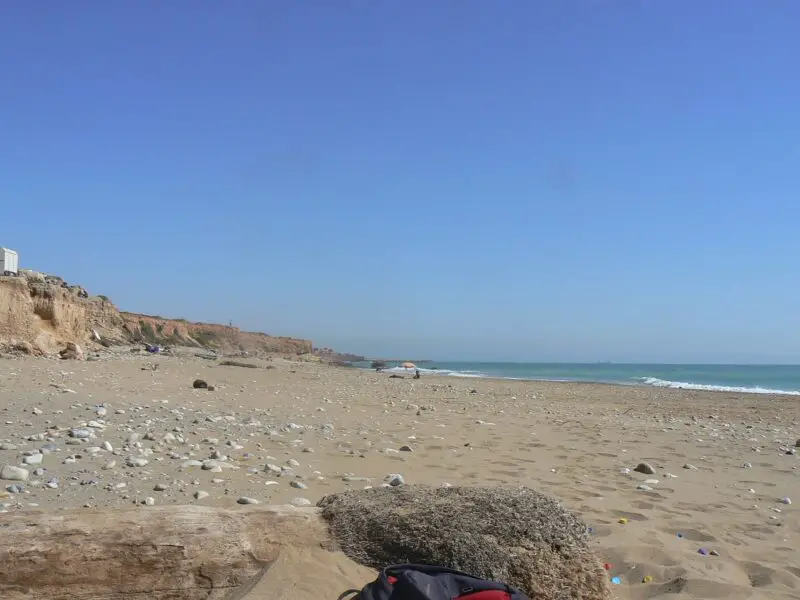 It is a rural town located in the north of Agadir, between the sea and mountains. Aourir is known as "Banana Village" due to the sweet bananas that grow on the fertile ground along the valley. Aourir beach stretches for more than 3 kilometers and is a hotspot for surf lovers. The town has several hotels, restaurants and every Wednesday smells and colors mix in a weekly traditional souk.
To go to Aourir by car, you take the coastal road, direction Essaouira and the village is just 12 kilometers from Agadir. In case you prefer public transportation, you can take a bus N°31 from Agadir city or a white taxi which costs you less than 10dhs.
Imourane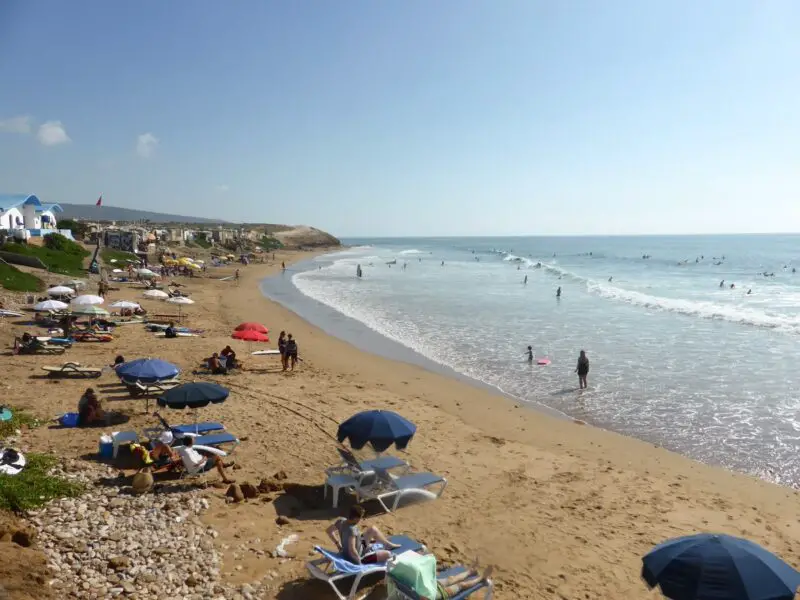 From Aourir village to the north, this beach is located in almost 6km. Imourane is also a surfing spot and boogie boarding.
To go to Imourane, take the coastal road, direction Essaouira. The village is 17 kilometers from Agadir.
Taghazout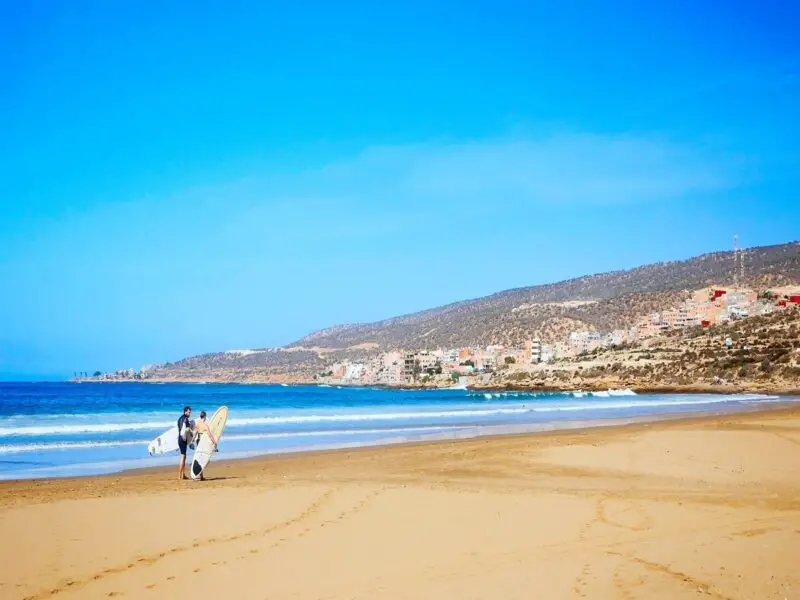 Taghazout is a small fishing village and it is almost 21 km from Agadir. The main source of income is tourism, fishing, the production of Argan oil. At Taghazout beach, you can meet a lot of surfers who come to enjoy the waves.  There are several surfing spots and you can count on locals' recommendations but the waves are not so big during summer.
The beach is calm and you can see goats on the beach who eat some of the vegetation growing between rocks. Also, there are some sellers of souvenirs but in general, they leave you in peace.
To go to Taghazout by car, you take the coastal road, direction Essaouira or you take public Bus ( N°32 or N°33 ) which cost less than 10dhs.
25KM beach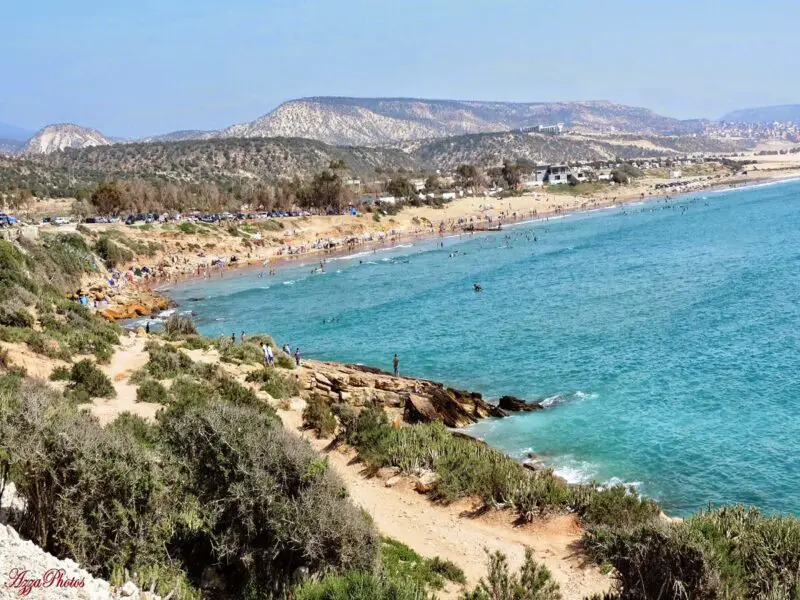 This beach is located 25 km from Agadir and known for beautiful clear water, clean sand and you have a lot of water sports, paddle boats, and boat hire. In the morning, you can see the fishermen arrive and sell their fishing to local restaurants. Also, you can enjoy the camel or horseback ride on the beach.
Tamraght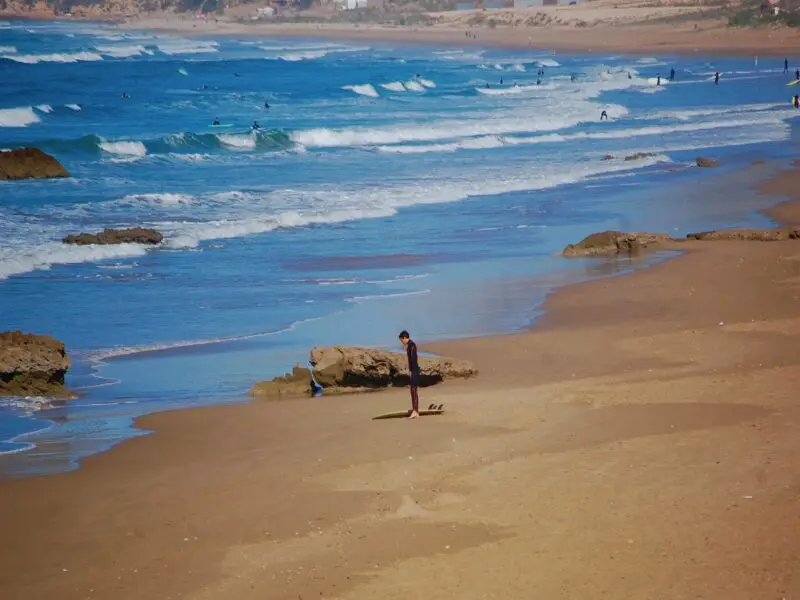 In Tamraght you can still chat with real people who are not there to get your pennies. Moreover, many Moroccans go to the beaches of the region.
Unfortunately, real estate projects in progress distort the landscape a bit but must take advantage of this corner before it is transformed.
Aghroud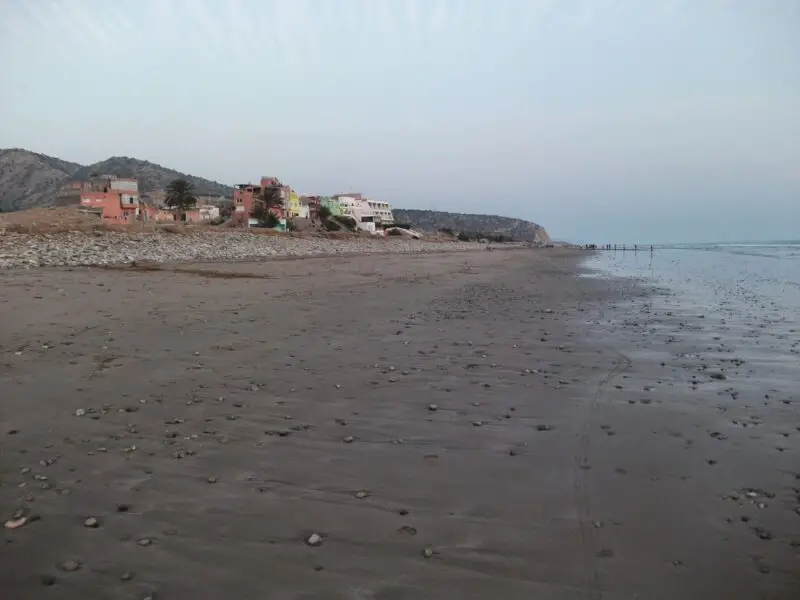 Located 25 kilometers north of the southern pearl, half an hour's drive, Aghroud, with its crystal clear waters, is one of the most peaceful and exotic beaches in the region. Because of its distance from Agadir, Aghroud is uncrowded and it is a nice place for families with children and surfing is also allowed.
Imsouane Beach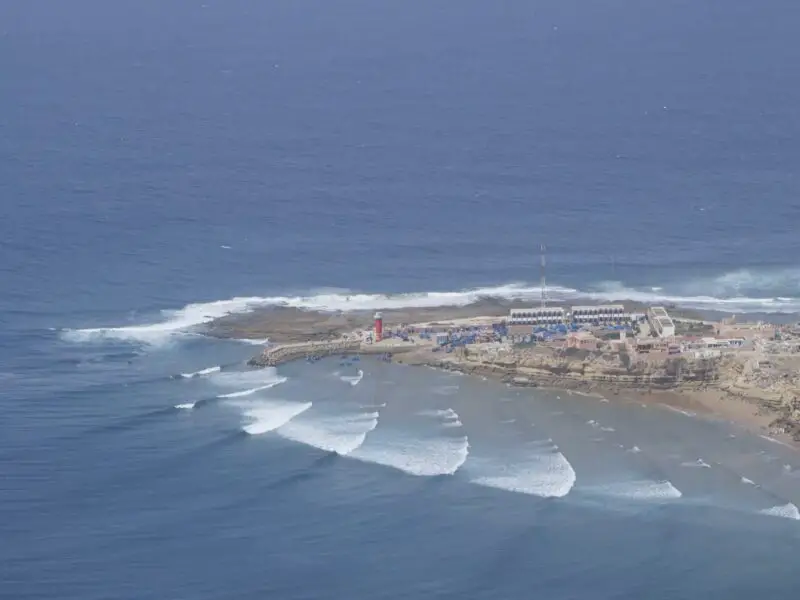 Imsouane is situated between Agadir and Essaouira and is among the 27 most beautiful beaches in the world according to the global media company Forbes. This dreamy village surrounded by mountains is one of the best surf destinations in Morocco. Imsouane beach offers spectacular waves thanks to the bay completely hidden by the mountains. Imsouane is located 70 km from the north of Agadir and the journey by car takes just 1.5 hours. If you are coming from Essaouira, Imsouane is 100km far from the south of Essaouira.
North Agadir Coast Beaches
on the Map
Best Beaches in Agadir – South

Coast of Souss-Massa-Draa
Sidi Toual
Sidi Toual Beach is a few kilometers north of Tifnit Beach. From the express road that leads to Tiznit, just before the locality of Sidi Bibi, you turn right on a paved road to get there. Sidi Toual is characterized by an absolute calm: no fish landing station, no coffee, and there are just some fishermen's houses in a disrepair state. 
The beach has retained its natural appearance. So, you can fish there, walk especially at low tide, swim and you have just to be careful though waves height.
Tifnit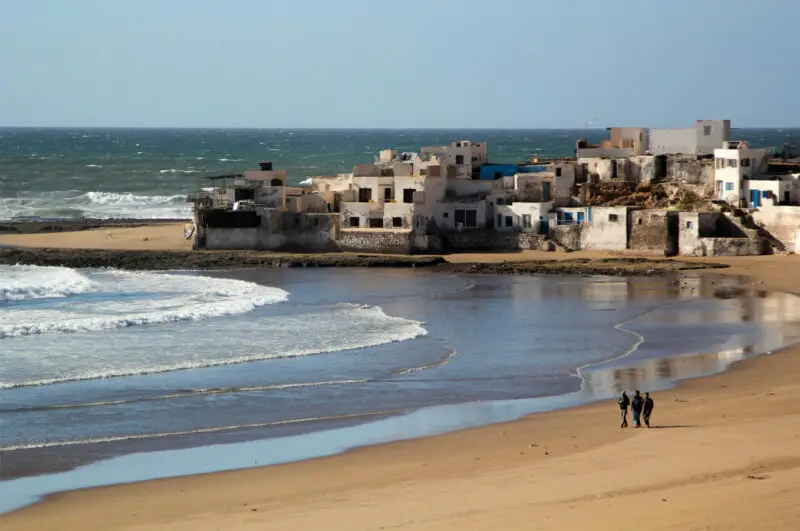 Tifnit is a dream place, one of the wildest beaches and from Takkad village you can get there in less than 1 hour. In recent years, Tifnit has become a popular spot for surfers and attracts more tourists, especially with motorhomes. Visiting Tifnit, offers the opportunity to explore the Souss-Massa National Park. This natural reserve is home to endangered birds like " bald ibis".
Douira
Located 55 km from Agadir, Douira village is ideal for a hike between the dunes and the fishing villages.
Sidi r'bat
About 15 km from a small village called Belfaa and an hour from Agadir, Sidi Rbat is a beautiful deserted beach spared from mass tourism. In addition, it is a wonderful place to relax and enjoy a change of scenery in Souss-Massa natural park. Sidi Rbat is the ideal place for holidays, for those wishing to spend a holiday by the sea, diving, surfing, or other water activities.
Sidi wasay
It is located 67 km south of Agadir and bordered by Souss Massa National Park in the north and Oued Massa in the east. It is a mix between the sea and the desert. Sidi Wassay Beach is a wonderful place for ocean, nature, fishing, and surf lovers…
Southern Pearl Coast
beaches on the Map
Best Accommodations in Agadir