In this article about Agadir, also called the Southern Pearl of Morocco, we will see a little bit of History, Language, Climate and useful information about what to explore, to eat and buy in this beautiful city…
History of The Southern Pearl of Morocco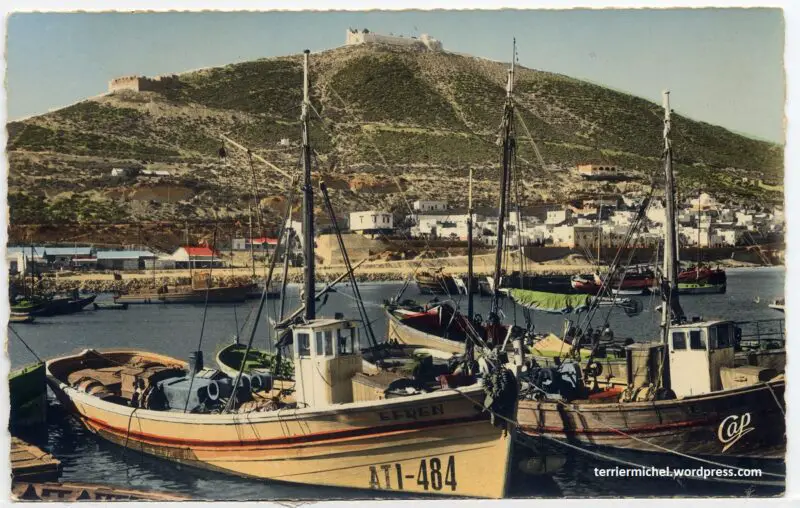 Agadir is a big city in the south of Morocco and the Berber name of the city means "fortified granary" and the origin of this denomination remains uncertain.
The history of Agadir began in the 16th century when the city was emancipated as a port.
The trade is made around the following commodities: sugar, skins, wax,…etc. Because of the Essaouira port emergence, the Agadir site is gradually declining and is being converted into the sardine trade.
A living date in Moroccans memory is 1960, the year of a terrible earthquake that destroyed almost the entire city.
This disaster killed around 15,000 people and then the city was rebuilt as promised by King Mohamed V just after 1 week after a disaster.
Locals and Languages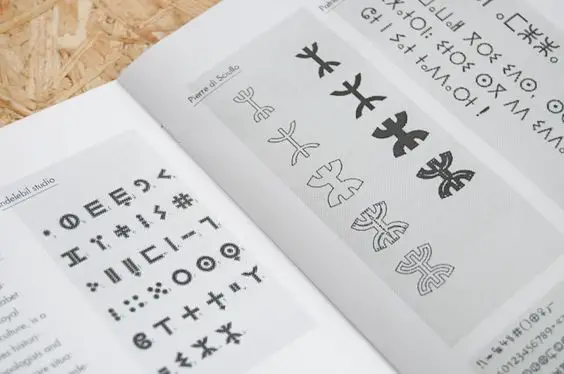 In this tolerant city, the local Berber community is proud of their culture, heritage and is very welcoming.
Agadir people are also called " Soussi " referring to souss Massa-Draa region. Concerning languages, locals speak " Tachelhit " called also " Tamazight " and of course a Moroccan dialect spoken everywhere in Morocco.
Berber language alphabets are called " Tifinagh " which is different from Arabic language ones.
Agadir's Tourism Developpement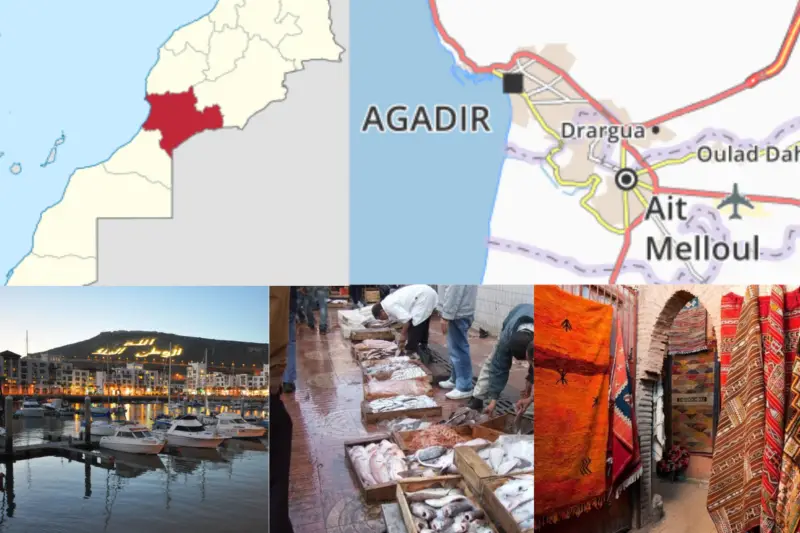 Today, the city's economy is mainly based on tourism. Thanks to the mild climate throughout the year, its location on the coast, and its beautiful beaches ( almost 10 kilometers ). Tour operators offer numerous all-inclusive trips to Agadir; the resort has all the necessary hotels and leisures (gulfs, swimming pools, boating,…etc). In addition, the prices of these trips can be very attractive, especially in the low season…
Agadir has a major port with a prosperous fishing industry, exporting products and natural resources. In the north of the city towards the beaches around Tamraght, you will pass a small town called Anza where there is a fish processing factory and on hot days, the smell can be strong.
This city remains a specific destination, dynamic, modern, and alive, but also rooted in the culture of mass tourism, which will make some people flee while others will turn to Agadir for their holidays.
Agadir international Airport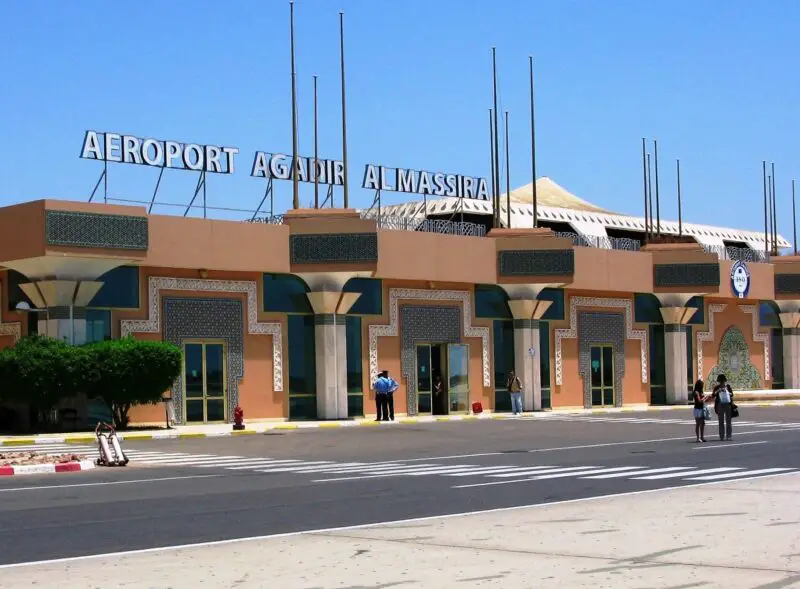 Al Massira Airport in Agadir is an international airport. For visitors coming from major cities in Europe, there are direct flights and charter flights from all over Europe. In case you are coming to Agadir from the US, Canada, or Asia, you will have to change the plane in Casablanca to take an internal flight which takes just 1h to arrive in Agadir. 
Climate
The weather in the southern pearl is subtropical but very dry.
Summer: from mid-June to September, is warm, dry and the temperature is 80°F/27°C, with nights cooling off to around 65°F/18°C. Generally, the weather is pleasantly warm, but in the early morning or evening, it can be a bit cool. Because of the winds coming from the desert, the weather can be sometimes hot ( around 104°F/40°C ).
Autumn is usually warm in October, while in November it is very mild, but at night it can be cold. In October, it can rain, and sometimes it may be more abundant than usual.
Winter, from December to February, the weather is very mild. During the day, the maximum temperatures are about 20 °C (68 °F), while sometimes at night it can be cold and the minimum temperatures can drop below 5 °C (41 °F). Sometimes, it does not rain for a whole month, and for a few days, you can have some waves of bad weather with abundant rains. 
Spring, from March to mid-June, is pleasantly warm when the wind blows from the desert or very mild. In March and April, thunderstorms can erupt and rarely in May. 
Best Time to go to AGADIR
For beach or resort holiday in Agadir, the best time is from July to September, or even mid-October:
In July and August, very hot days can occur and the best month is September.

In June, the sea is still cold, with misty mornings, and a bit of cool weather in the evening.
So, for eventual misty mornings and cool evenings, it can be useful to bring a sweatshirt, even in summer.
Things To Do in The Southern Pearl of Morocco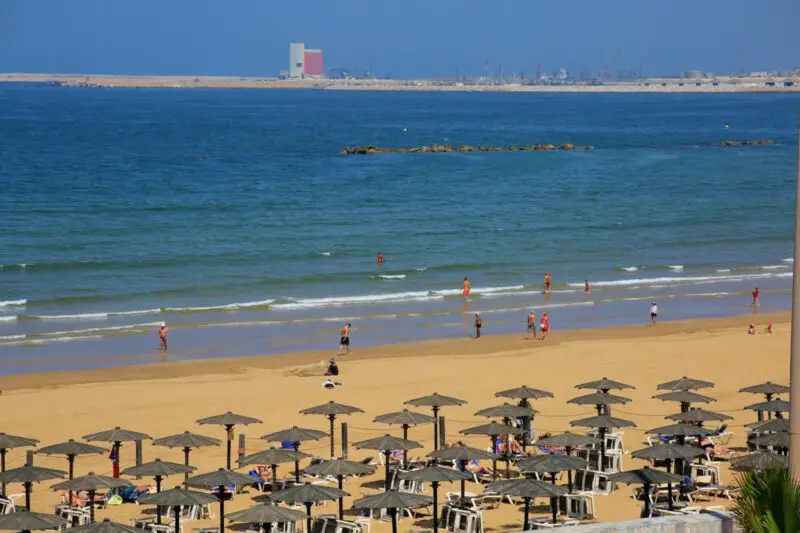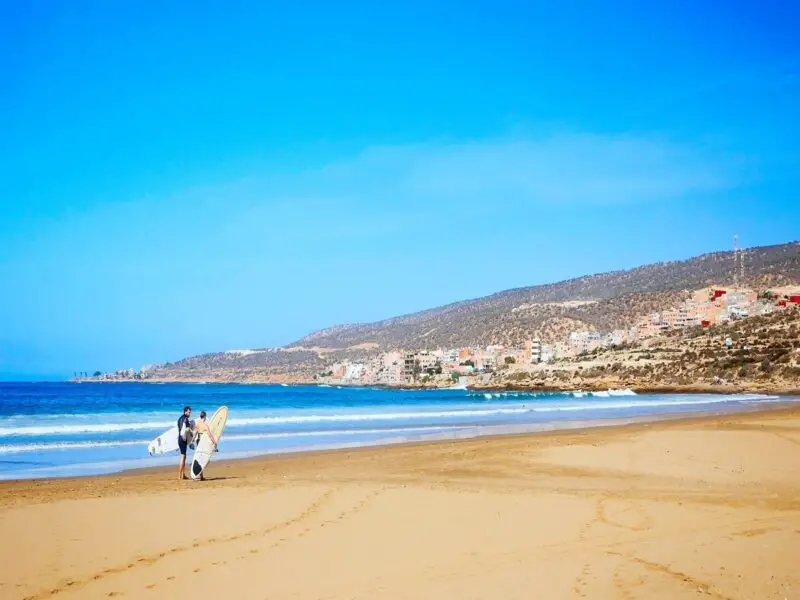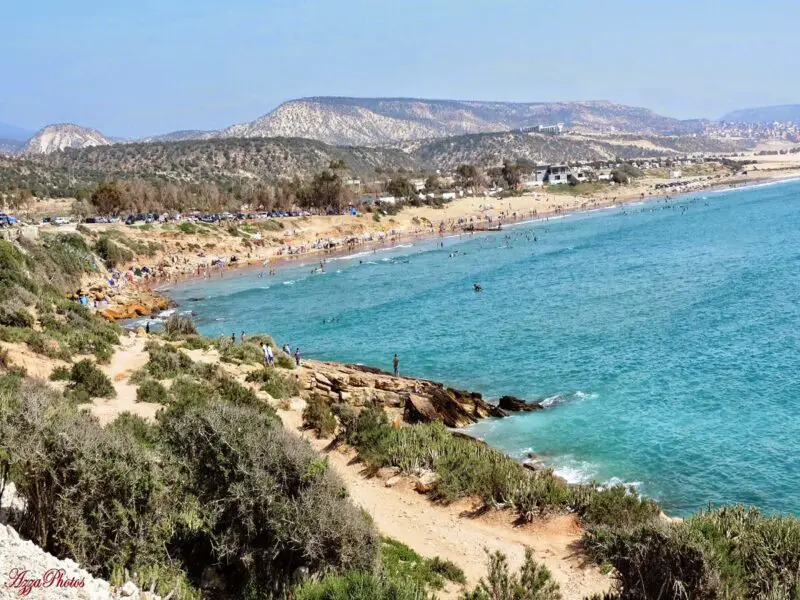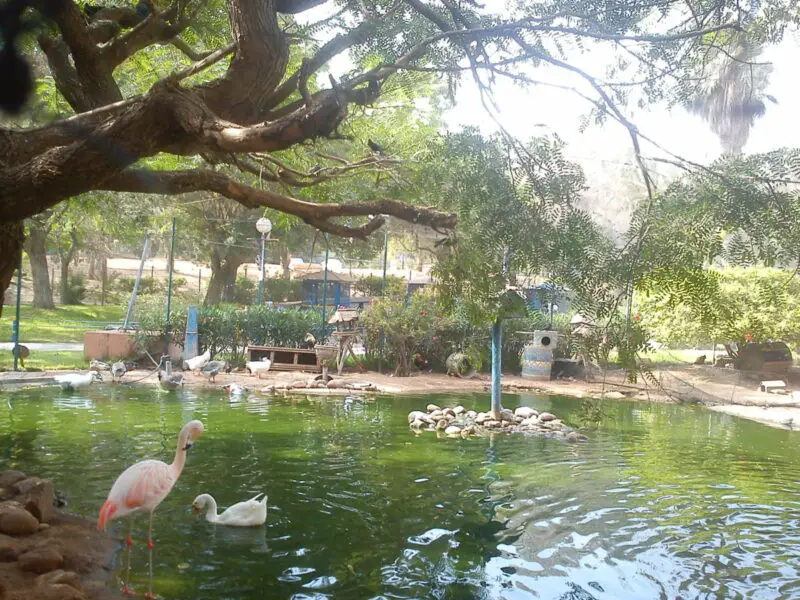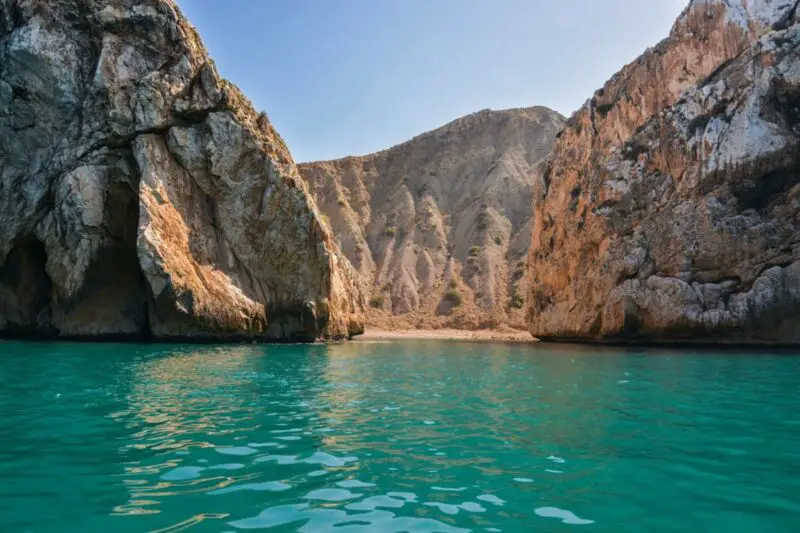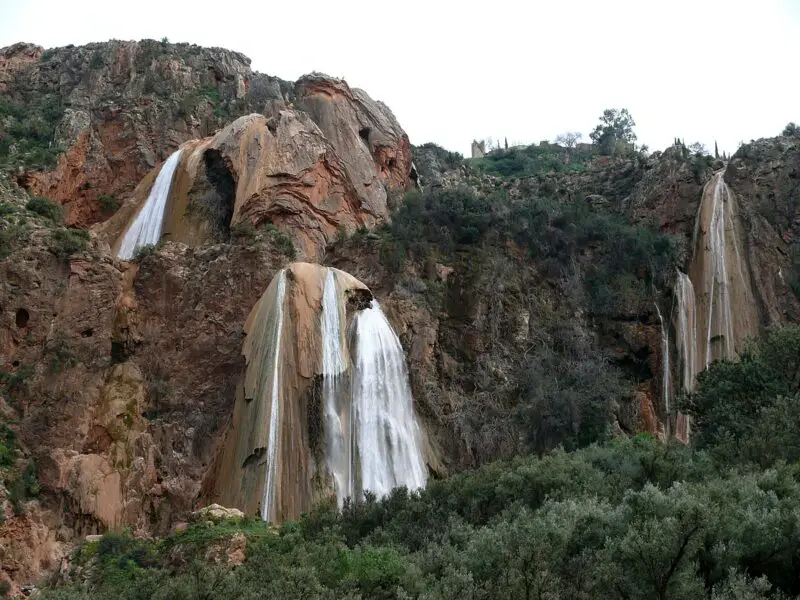 Places to visit : Agadir Oufella, Marina, Agadir Corniche, Birds Valley, Souk El Had ( Sunday Souk ), CROCOPARC ( crocodiles park ), Souss Massa National natural Park, Paradise valley, Imouzzar Ida-Outanane, …
Agadir's Beaches : Agadir Corniche Beach, Aourir, Imourane, 25Km beach, Taghazout beach, Aghroud, Imsouane, Sidi Toual, Tifnit, Sidi R'bat, …
For more information about mentioned tourist attractions in the Southern Pearl of Morocco, you can check this article about The Top Things To See And Do In Agadir.
What to Eat in Agadir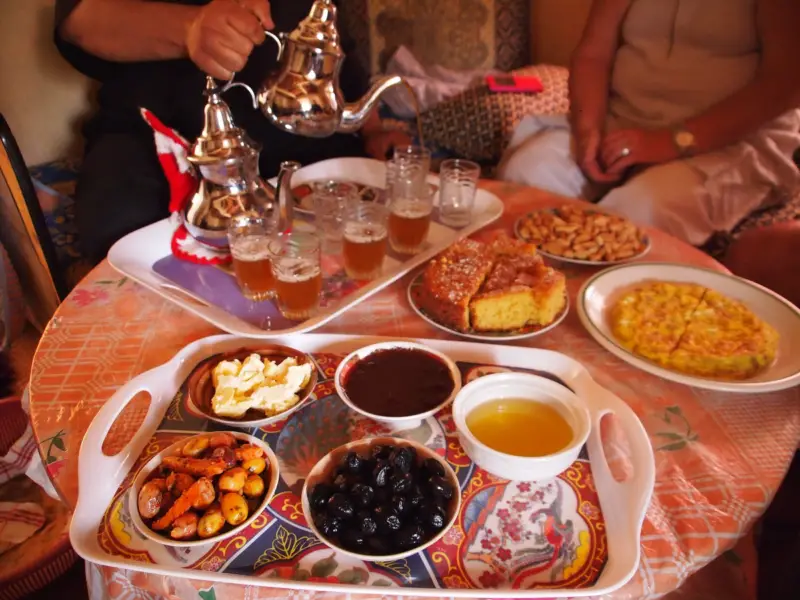 Every region in Morocco has its own special habits for breakfast. Berber breakfast is based on organic ingredients: different types of handmade bread, olive oil, olives, cakes drizzled with honey, and melted butter. Also, you have to taste Amlou (mixture of almonds and Argan oil) which is one of the main components of the Berber breakfast.
Where to Sleep/to Stay
First of all, if you are an unmarried couple looking for a double room, many hotels will refuse. They only allow married couples to share a room.
The main budget accommodation area is in the Nouveau Tablorjtu. You pay around 150–180 Dh for a simple double room and around 80 Dh for a basic hotel with crappy toilets. In high season, try to arrive early as hotels tend to fill up quickly. 
Also, there is a decent selection of upscale and attractive hotels which are located next to the coast along oued Souss road and 20 Aout Avenue and in Founty area.
What to Buy in Agadir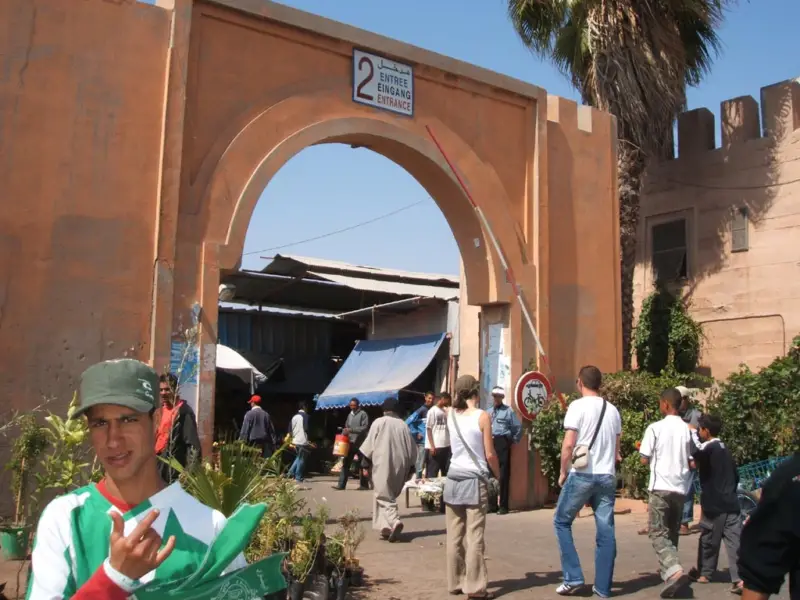 There is an authentic Souk in Agadir called Souk El Had (Sunday Market) located in the Corner of Avenue Abderrahim Bouabid and Rue du 2 Mars. The Souk is open daily except for Monday from 9 am-8 pm and the busiest on Weekends.
You can find a wide range of goods: tagines, Argan Oil products, clothes, handbags,…etc. Also, cleaning products, home furnishings and there is vegetables and fruits market.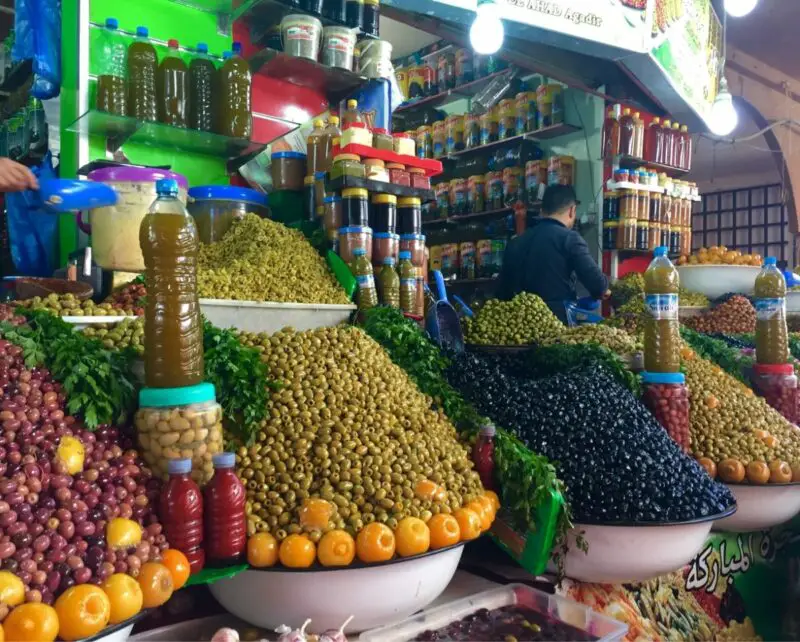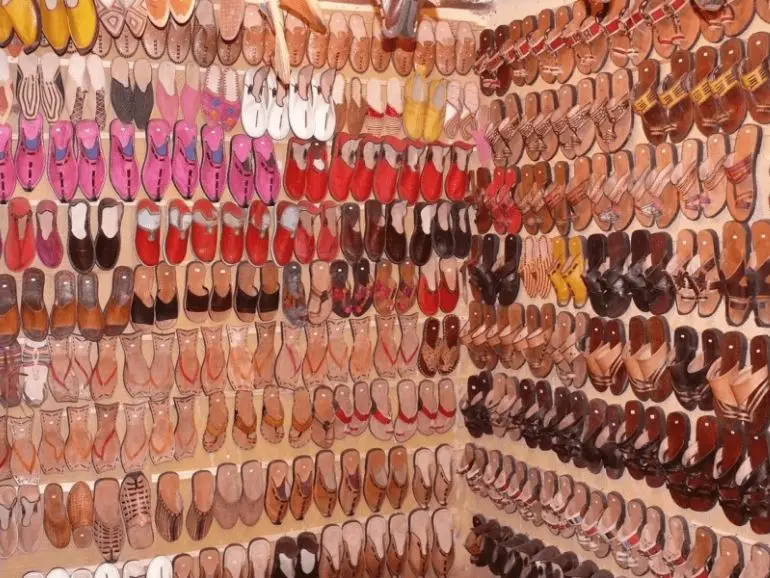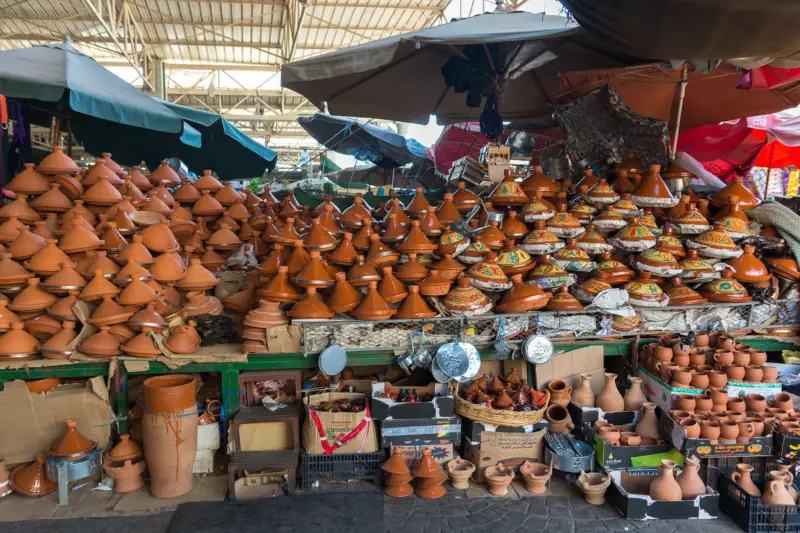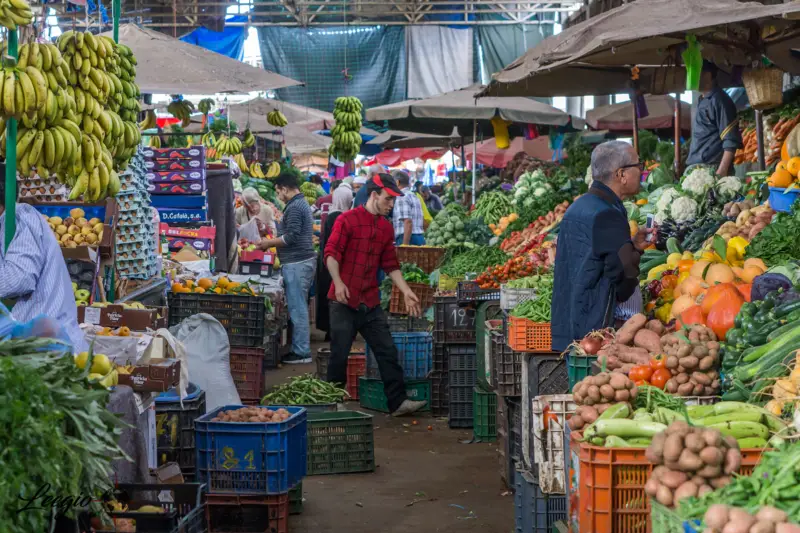 If you take a red taxi to the souk, you ask the driver to take you to Ibis hotel and walk 100m to the souk or you ask for the Gate 2 of the Souk.
The souk is far from the beach. So, try to avoid swimwear and dress conservatively by covering shoulders and knees.
In the Southern pearl of Morocco and the surrounding area, there are smaller souks and branches of Marjane hypermarket which are great for goods like toiletries, teapots, glasses, tagines, argan oil, traditional shoes,…etc all are well priced. 
If you are looking for famous brands, the Marina has shops like Adidas, Zara, Mango, Lacoste, and Geox. 
Not far from The Southern Pearl of Morocco
Agadir's north coast has very accessible and wonderful beaches. Why not head to Aourir, Tamraght, and the surfing village of Taghazout only about 15 km away.

You can get to these towns using the bus that leaves from the center of Agadir. 

About 60km northeast of Agadir, there are famous cascades of Imouzzer. On the road to Imouzzer, you go through the Paradise Valley before you start a mountainous road to this village.

Souss-Massa national park river is 40km south of Agadir: You go by bus from  Mohammed V Avenue to Inezgane and you take another bus to Massa. From there, it is a 4km walk to the park entrance.

Taroudannt is located about 80km east of Agadir and is also a historical city like Marrakech, Fez,…

Marrakech: Supratour bus company, proposes several daily departures which cost around 140dh one way for the luxury bus or 100dh for the standard cheap buses. The Journey takes 3 hours including a toilet stop. Returns at night can be unreliable in terms of departure times due to tie-ins with the train service at Marrakech.
3 Hours south of Agadir, there is an uncrowded beach called Legzira which extends between the cliffs and the ocean.