For people who appreciate ancient artwork, Vintage Moroccan Berber Rugs are perfectly authentic and unique pieces made for them.
These stunning pieces add a pleasant classic touch and beauty to the floor, room, or any space in your home to feel warm and welcome.
Moroccan rugs also called " Berber Rugs", which refer to their provenance, are very known worldwide for their

designs, embroideries, and

diversity. All Moroccan Berber rugs are handmade and often made of

high-quality natural wool

by female

craftsmen

from different Berber tribes in the Atlas mountains.
Beni Ourain Rug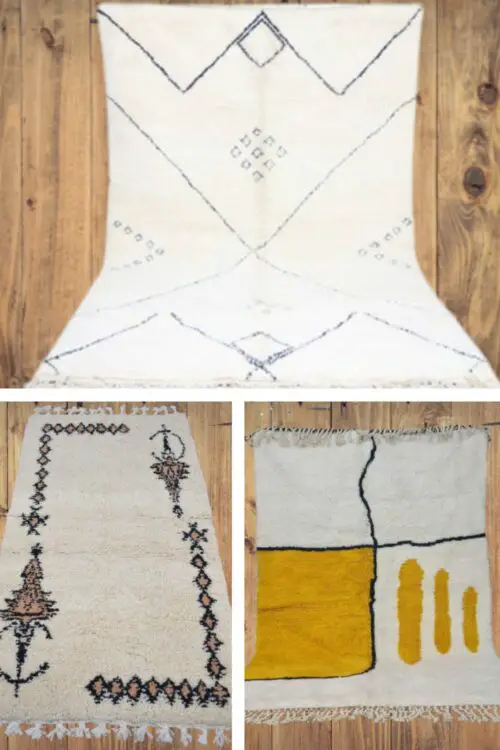 Beni Ourain is the name of the collective in the Atlas Mountains in Morocco composed of 17 Berber tribes and any rug woven by one of these tribes has the name of Beni Ourain rug. They are known to be the most comfortable rugs you will ever encounter. Rugs of these tribes are made 100% from sheep wool, undyed with traditional weavers for those who appreciate the natural world.
Azilal Rug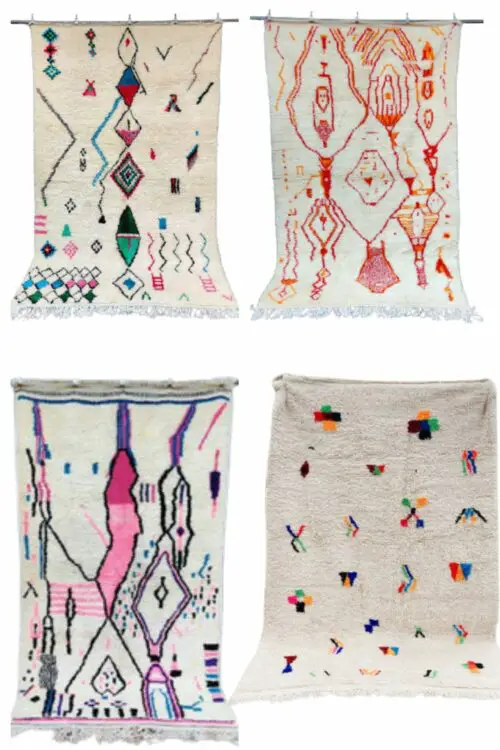 Azilal, about 180 km from Marrakech in High Atlas Mountains, is a provincial capital in central Morocco. Azilal rug, considered also a Berber rug, needs specific skills found only in Berber women of the Moroccan tribes and is made from pure sheep's wool mixed with cotton or made mainly from cotton.
Boujad Rug
Boujad Berber tribe, about 62km from Beni-Mellal, is also known for its beautiful Hand-woven rugs with artistic designs and geometric complex patterns. Boujad rugs are 100% from wool and the dominant colors are red, orange, and pink.
Beni Mguild Rug
Beni Mguild, about 49 km from Azrou city, is a tribal area located in the middle Atlas Mountains in Morocco with an elevation of 1,884 meters. Beni Mguid Berber tribes are also known for their hand-knotted rugs with handspun wool traditionally made to keep warm and to cover cold floors in winter as well as setting the tone for joy in interior design by its saturated pink, red, blue, peach, and ochre backgrounds.
Boucherouite Rug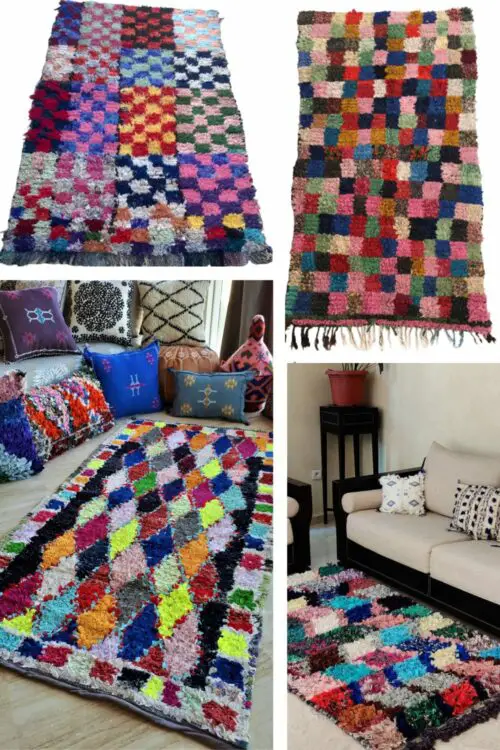 Boucherouite rug is the home of vintage handmade Moroccan area rugs with an amazing blend of colors and textures that will give a trendy look to your house or office. It can be made with different recycled textiles like wool, cotton, synthetic fibers, nylon, and lurex. Boucherouite rugs may look tufted or like a rag depending on how they trim materials.