As a visitor to the kingdom of Morocco, rich in culture and natural wealth, in addition to the wonderful memories, you may have with local people, you have a list of the best souvenirs products to buy in Morocco before back home to remember moments, places, and smells.
For people who come by car to Morocco, for example from European countries, they can go back home with many Moroccan souvenirs. But, it does not always mean that Moroccan products do not exist in their country's shops or markets. The thing is that products bought from Morocco are most of the time of better quality and cheaper.
Essentials of The Moroccan Hammam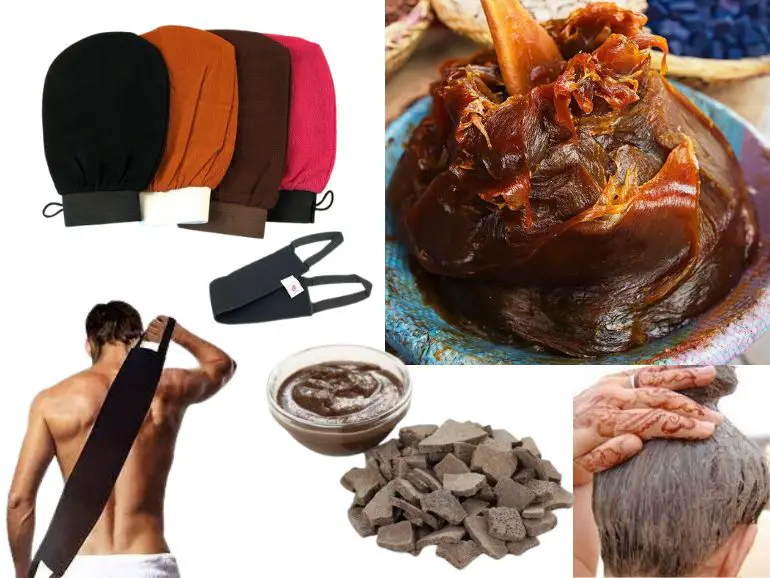 The beldi black soap, The exfoliating gloves (called Kiss in Morocco) to exfoliate the body, and the Rassoul clay for the hair mask. These three products are cool gifts to fans of Traditional Moroccan Hammam.
Culinary and Cosmetic Argan Oil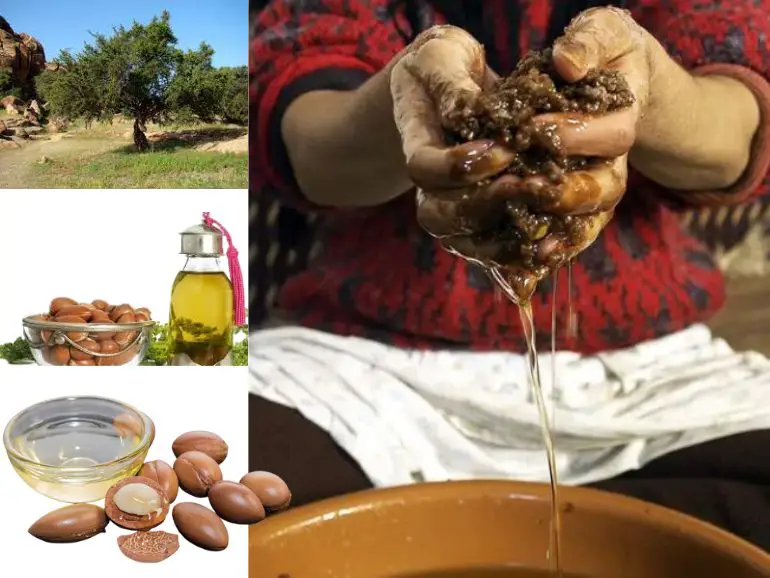 To maximize the freshness of the argan oil, you can put it in a glass bottle and keep it far from light. The cosmetic argan oil can be a cool gift to your female friends.
Amlou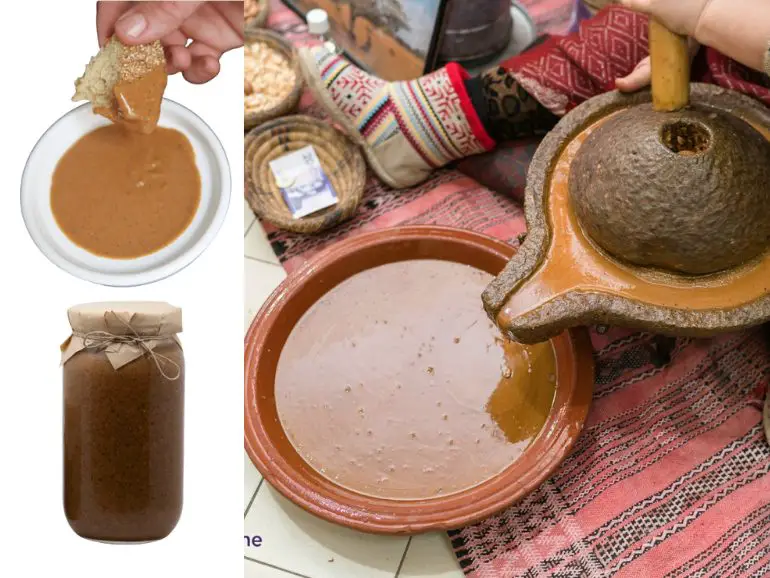 Amlou is the south Moroccan Almond butter mixed with argan oil and honey and it's so good with bread and mint tea. So, you can have your own Berber breakfast from time to time.
Olive Oil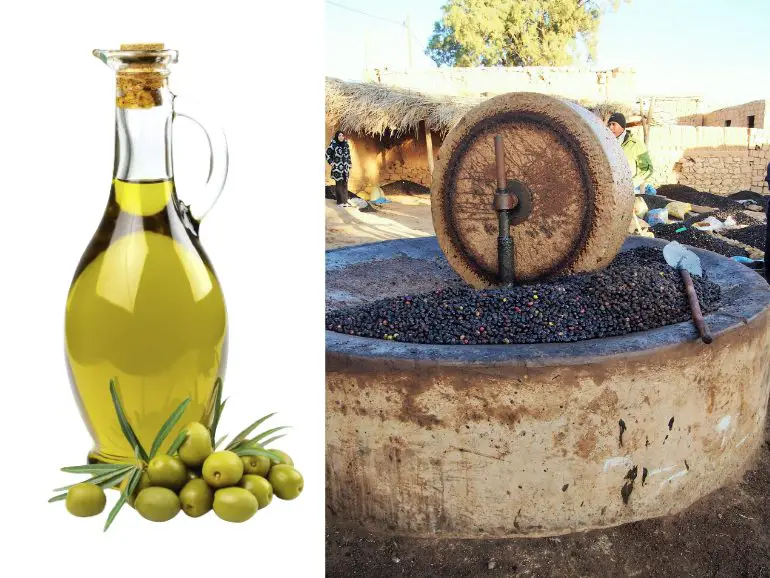 You can find olive oil everywhere in Morocco because the olive tree is the most cultivated tree in the country.
Mint Tea ingredients and utensils
In case you are a Moroccan mint tea lover, you can buy green tea, dried mint leaves, teapot, and artisan Moroccan tea glasses. 
Spices
Turmeric, ginger, cumin, herbal tea mixes, and olives.
Moroccan Traditional Clothes & Deco
You can take with you some Moroccan Traditional clothes Jellabas, Gandouras, Babouches, or any leather product you fancy such as sandals or bags. Also, there are many Moroccan handicrafts like the beautiful Moroccan rugs and carpets from the atlas mountains villages.
Moroccan freshly-made cookies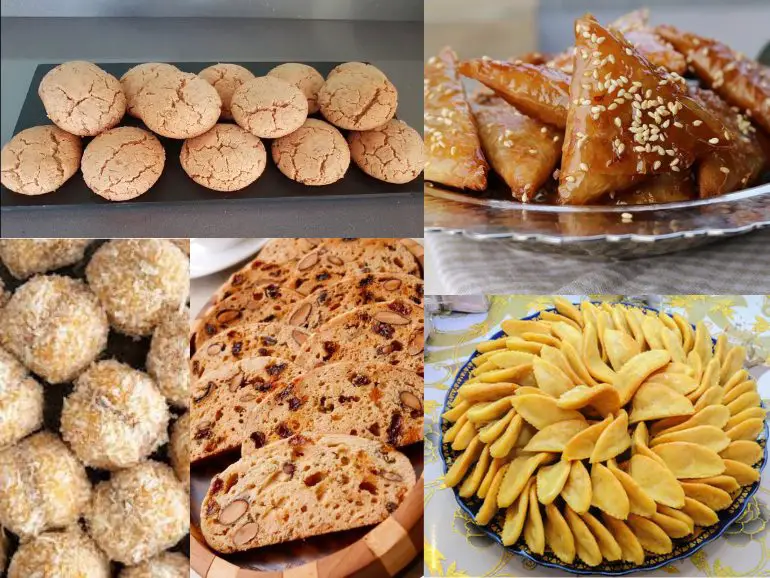 Some Moroccan homemade cookies, either homemade or bought from a trustworthy bakery such as Moroccan Snowball cookies, Briwat, Bahla Ghoriba, Kaab El Ghazal (it means in English Gazelle's horns), and Feqqas. These cookies can be conserved for a long time and are so tasty with Moroccan mint tea.
Safran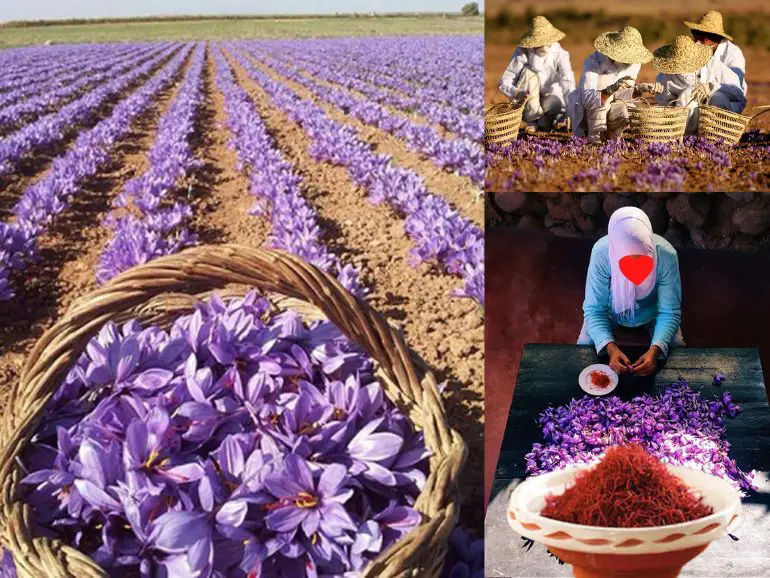 The best in the world is the Safran of Taliouine village and since each flower has only three stigmas, it's considered the world's most expensive spice.
Orange Blossom Water &

Rosewater
It is so fragrant and it can make a big difference in your tea, deserts, or milk with dates, and rosewater is used in cosmetics.