What is

Eid

Al Fitr ( Eid Al Fitr

Celebtation

) ?
Eid Al Fitr in Morocco is an important islamic celebration for the muslim world marking the end of the Holy month of Ramadan. It is celebrated in the first day after RAMADAN, a month of fasting, additional prayer, worship and charity. It is also considered as a national holiday where all schools and almost all businesses and administrations are closed. The other important islamic celebration is Eid Al Adha.
When is Eid Al Fitr  ?
The religious authorities announce the day of Eid Al Fitr depending on the testimony of the moon sighters and they wait until the evening before Eid to verify. If the crescent moon is not visible in the evening of the 29th day of Ramadan, they continue fasting the 30th day and celebration will be in the day after. So, they fast 29 or 30 days depending on the moon.
What Moroccans do before Eid AL Fitr Day ?
In Morocco and for Muslims everywhere, Eid AL Fitr and Eid Al Adha are among the most anticipated and celebrated days of the year.
Zakat Al Fitr :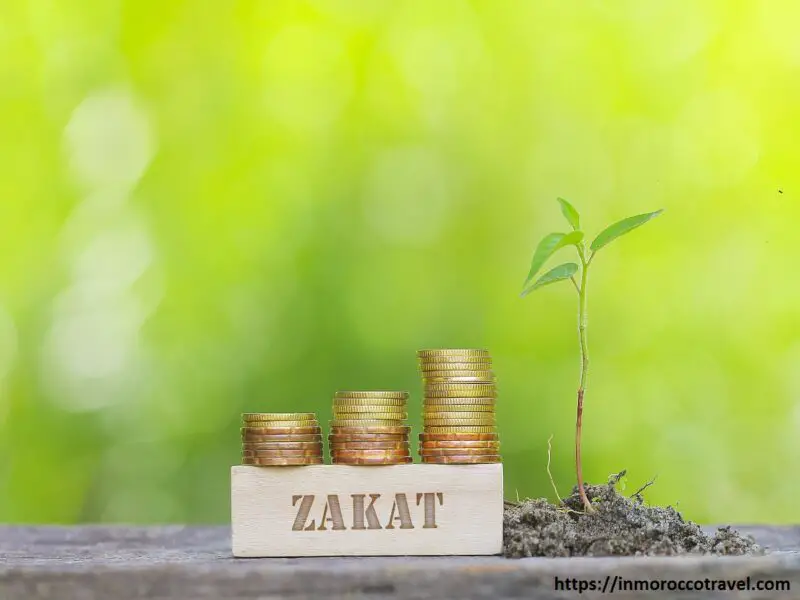 Zakat is one of the five pillars of Islam and represents a religious obligation or tax for all Muslims who meet the necessary criteria of wealth. Concerning ZAKAT LFITR, is an Alms and for example this year ( 2020 ) is set at 13 dirhams per person ( as a minimum amount ) and  recommended to be given before the day of celebration, preferably one day or two or even three days at most. In general, the family breadwinner give this donation to needy people, so they can celebrate without financial worries or at least feeling less in need that day.
The Prophet Mohammed ( PBUH ) emphasized the obligation of delivering zakat before the Eid prayer and doing it after the prayer it becomes like a normal charity rather than zakat.
For more information, you can check the website of the Moroccan Ministry of  Islamic Affairs.
Preparation of Traditional Pastries :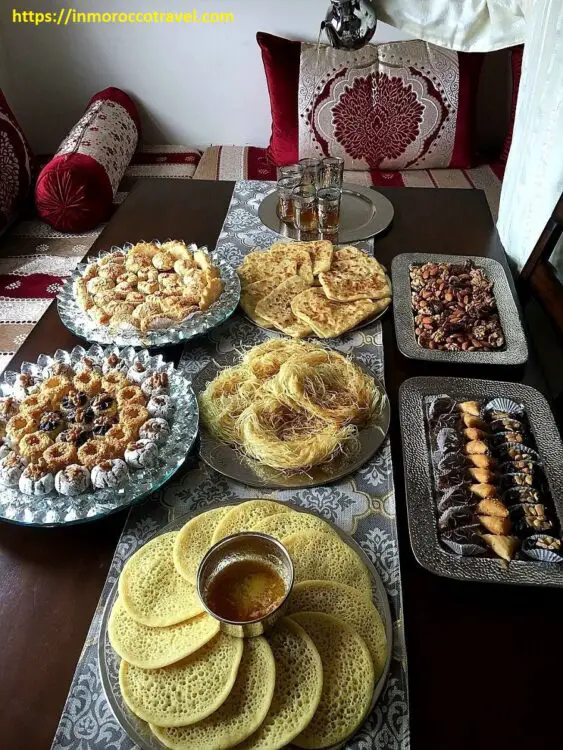 During last days of RAMADAN, Moroccan women start doing a homemade pastries, cakes and cookies and others prefer buying prepared one from nearby pastry shops.
Buying New Traditional Clothes :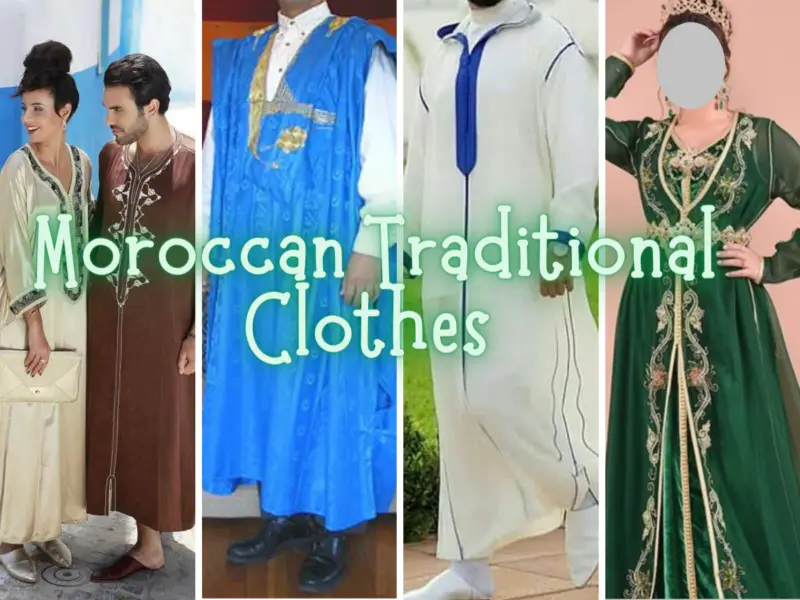 In general, last week of RAMADAN, Moroccans head to their favorite traditional clothing boutique or tailor to buy Kaftan, Takchita, Jabador, Djellaba with traditional Moroccan slippers called Belgha, or any of the varied and colorful traditional Moroccan clothes. In case, it is not possible to buy new clothes, they will wear the finest outfit they already have.
Concerning children, they enjoy when their parents take them out to buy the best " Eid clothes " they could afford to parade among their friends in the day of celebration. Some Associations or neighborhoods even collect donations to help needy families to get new clothes for their children as well.
What Moroccans do During the Celebration ?
After waking up early, people perform the first prayer of the day " Lfajr prayer ". Then, they wear their best traditional clothes and enjoy a light breakfast before going to perform Eid prayer. 
This celebration for moroccans is a chance to be together with their families and the first things families members do to each other, neighbours and relatives are hugging each other and wishing a Blessed celebration by saying " Mabrouk L3id or Mabrouk L3wacher ". Then, the answer is " May Allah Bless you " which is in Moroccan dialect " Allah ybarek Fik ".
Eid Al Fitr Prayer :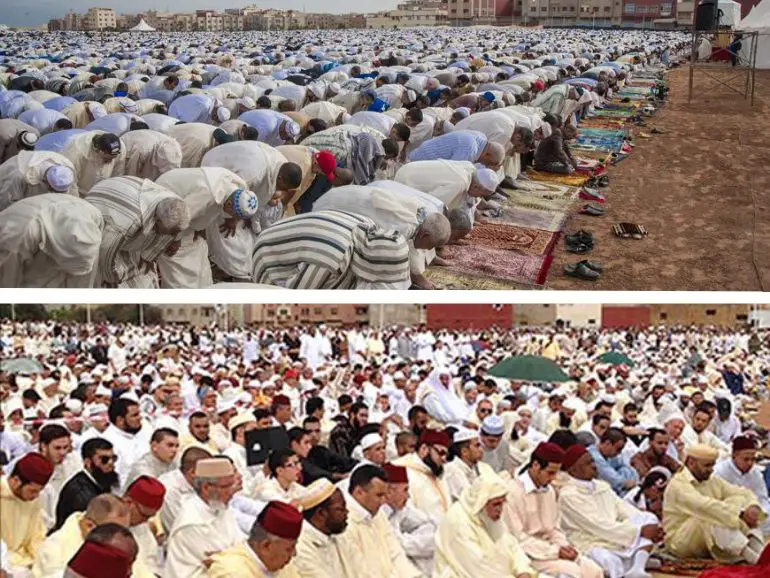 Muslims accomplish Eid Al Fitr prayer early in the morning of the celebration day. After wearing their traditional clothes, Moroccans go out to do this special prayer in Mosques or in a large open places managed by local authorities.
Enjoying good meals with a family :
In Moroccan culture and family life, food is very important especially during celebrations. Families prepare a variety of typical moroccan dishes for a mean meal of the day like lamb or beef with prunes, couscous, chicken with olives and preserved lemons, seafood or chicken Bastilla, chicken rfissa..etc.
Gifts for children :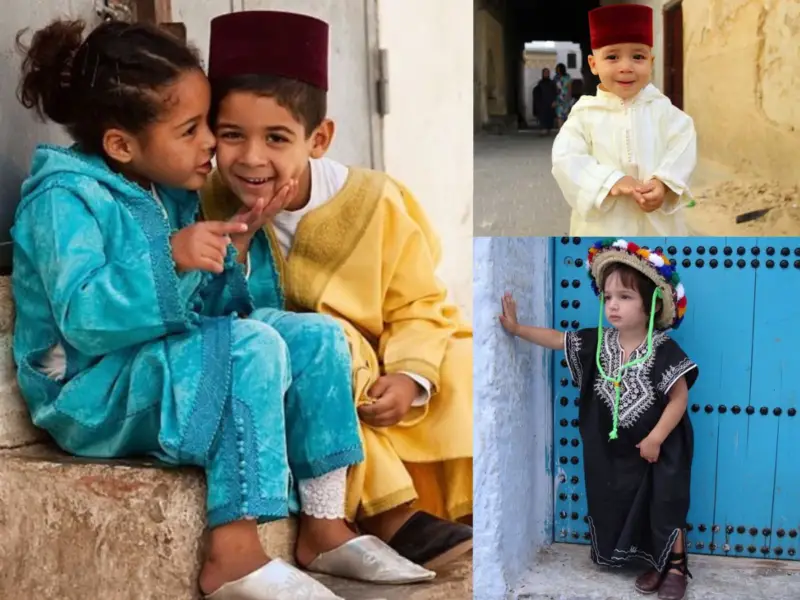 Usually, older members of the Moroccan family give pocket money to children. 
Visiting relatives :
In general, moroccan families start visiting their relatives in afternoon or evening after havign the mean meal at home.